Server Admin
Staff member
ARK Admin
SE Admin
As I make my entry into the world of VR, I know there is no going back....
Who wants to join me?
Ill start with my System spec's (which I promised to post elsewhere, and failed to do
)
Windows 10
Mobo: ASUS Saber-Tooth Z77
CPU: Intel i7 3770 3.40Ghz (non K)
RAM: 16GB HyperX Beast DDR3 1600Mhz
GPU: ASUS R9 390 Strix
HD: 500GB Samsung 850 EVO SSD (for games)
HMD of choice is the
Samsung Odyssey+
- Windows Mixed Reality
I bought it On sale for 299.99 Plus tax. (keeping in mind Black Friday is right around the corner)
It came down to this or the Oculus Rift at $100 more.
both current versions of the HTC Vive are overpriced in my market... IMHO.
Initial set-up was much tougher than it should have been (due to my existing hardware). The instructions say to Plug-it-in, and Windows will take over. That didn't happen for me. The Odyssey+ did not like the HDMI 1.4 Port on the back of my GPU. After trying a few DisplayPort to HDMI adapters I WAS able to find one that allowed the Headset to work. I also suspect a lack of power at the back of my Mobo, which I will verify and post here later (many other users complained about having USB 3.0 issues, makes me wonder). I currently have it plugged into a powered USB hub. Aside from getting a message from Window Mixed Reality that my GPU was not compatible, a was able to get to the set-up process. Only after I learned that My GPU wouldn't activate the HMD until I unplugged one of my other 3 monitors.
What did I learn overall? Aside from the listed requirements, Check for:
HDMI version - 2.0 is the standard although there are a few HMDs that will use older versions
Make sure your Mobo is giving your USB 3.0 jacks enough juice.
Pay attention to the more basic limitations of the hardware. (GPU screen Number in my case)
I have only used the Odyssey for a few hours. Most of the time was spent trying to get ARK to display in VR... I have not given up yet..... The rest was checking out the included software/activities, and trying out Digital Combat Simulator (Still need to tweak graphics a little more).
Games I still want to try:
Literally everything in my Steam Library
My initial impression is that the display is gorgeous. I have also spent a few hours on the Rift, I can say for me personally the SDE (screen door effect) is MUCH less noticeable on the Odyssey+. Tracking seems pretty smooth, although as a desktop gamer... I'm not really pushing its limits. Performance wise so far so good.
The downside is... I can already tell for me, comfort is going to be an issue. The head band clamps around your head. There is no adjustment for display distance from your eyes. So to get focus right you have to play with "where" the head bands are tightened against your head. It takes a little bit if fiddling around to get it to sit right... and there isn't much to prevent it from shifting if you REALLY get into the game. In order to get the image to focus correctly I have to position the display so its almost resting against my nose. This gets irritating quickly (could possibly be fixed with some extra padding). I didn't think my nose was all that big.... But ill let you guys be the judge.....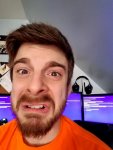 SO, im going to keep playing with it/dialing it in BUT if I find a Rift this Black Friday for the same price, it will be hard NOT to jump on it and at least give it a try. IF I don't notice much of a difference in display quality Id Rather not have to customize the headband on a $300 HMD to make it more comfortable.
Happy gaming friends!!
Last edited: