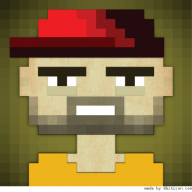 Forum Guru
Staff member
Donator
Hello Revenant Members and Future Members! It's been a long time coming and we want to give a little bit of info on future projects. As a community we are always looking for community feedback.
To start, you may have noticed a site redesign. New skin, new features and new software.
Current Features
Slideshow with semi up to date info.
Banner bar with Featured played games played by Revenant Members
Social Media bar
Discord only login/registration
Future Features
Server information and Donation links
Active Twitch display(revenant hosted twitch streams live on the site)
New logo(current is a temp). We want a new logo for the community, and have wanted one for a while. We would eventually love to create merchandise for everyone that we can give away or allow for purchasing. But we aren't going to slap on any old logo without feeling pride in it. So if you know a artist that would be willing to help! Let me know!
The next big thing we want to work on for Revenant is recruitment. The community is only as good as the members who participate. I love how the ark community was introduced into Revenant but I'd like to continue this with other games as well. So the community goal for us would be to expand as much as we can over the next few months. So we want people who play other games to step up, if you'd like a Revenant community in the game you play, let us know! Message @Riva#0219 and let him know.
Along side recruitment, I would like to work on community interaction. Obviously we are a very laid back community so we don't require you to post x amount of times a month, join monthly meetings, or even require you to play a game. But we need ways to be social with everyone without any requirements to our users. So we have a few ideas floating.
Monthly Commmunity stats. A flyer filled with data such as new members, notable members, community numbers, site visits etc.
Monthly Member Spotlights to get to know our community members.
Free to play Fridays.
I want to talk about this one for a minute. So some of the best times I have gaming is playing a game that I don't normally play with a group of friends. The funny events that end up occurring will forever last in memory. We use to do this a while back and it was called NLLP(Not Lan Lan Party). It was a huge success but we focused only on a few paid games(Dayz, Gmod, etc). This sometimes limits the participation due to having or not having the games. So instead, I want to do something similar with Free To Play, Alpha, or Beta based games. This way everyone has a chance to join the fun. We would aim to bring this at least 1 Friday a month and would start at or around 9PM - 11PM EST. But for this work, I will need everyone's help to make sure we have secure list of games we can play and enjoy every month.
Podcasts! - This has been a long time project I've had in the back of my mind for a few years now. This will continue to be the works and I want to involve the Revenant Community has a whole(weekly guests etc). The General topic would be Gaming/Gaming Technology as a whole but would have some focuses on various things to create a sort of uniqueness it. Still in idea form and am open to suggestions and feedback on this idea.
Fund Raisers - I know there are a couple out there, but I'd like to get one under Revenant's belt. Xmas is still a long ways away but I would love for Revenant to have their hand in helping some kids out for the Holidays. We will be planning something soon so keep an eye out for details on that.
Last, and but not least. Current Members!. We want your feedback and suggestions. What would you like to see, what would you like to add, what would you change? Don't hesitate to message me and list them all out. Again you can shoot me a message on here, or on discord Riva#0219 .
Last edited: